CiviEvent is the module inside CiviCRM that allows you to do paid and free event signups. Using this module, you can have people RSVP for events, purchase paid tickets, and more. You can collect information on every attendee - such as would be needed for a convention or conference - or you can just collect information on the person purchasing/RSVPing and how many of each ticket/option they would like to purchase.
To add an event, click on the CiviCRM menu item at the top of the page. This will switch out your menu from the Drupal menu to the CiviCRM menu.

Click on the "Events" menu item. If you site has been customized, this menu title may have been changed to something similar, such as Conferences, Workshops, or Trainings.
This will bring up the menu options for events.
Here are two examples of what your menu might look like. Note how the one on the left has been customized to replace the word "event" with "training".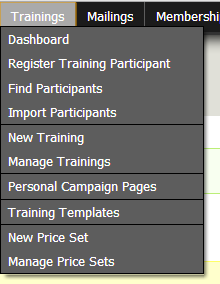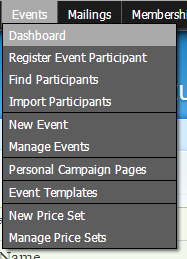 If you regularly hold events that would need similar settings, I'd recommend creating a template. The steps are the same as if you were creating an event, it just creates a template which you can use over and over.
If you want to sell tickets for an event, but only need to capture information on the person doing the RSVP or purchase, you can use price sets. This allows you to set the price level(s) for your event - such as General Admission, Student, and VIP - and sell multiple tickets to one person without the need to collect information on every guest.
To create a new event, click "Manage Events".
Click "Add Event".
At this point, you'll be taken through a series of tabs where you can input all the information you have for your event. Only the first two tabs are required. Once you finish those two, you can click on the remaining tabs and input any additional information you would like to add.
On the Online Registration tab is where you will tell the system what information you want to collect from people. You'll add custom fields - such as meal type - in the administrative interface and then add them (and fields that come standard like name and address) to a profile. Information on how to do this can be found at the links provided above.
Once you input all your data and save the event, you'll be given the "live link" to be used with the public.